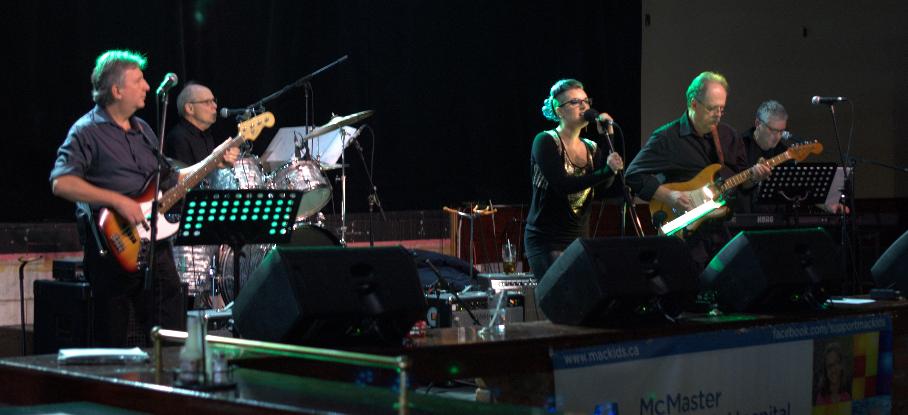 The Band
North Shore Blvd features Ms. Morghan Leigh, one of Ontario's top female singers. Trained in jazz, choral and opera, Morghan has no problem tackling the sweet sounds of Sara Bareilles, the edge of Adele, or the soaring vocals of Tina Turner or any of the current female hit-makers. But she is not limited to material performed by women as her range lets her take on the music usually performed by male vocalists.
Morghan is backed by veteran musicians with all having hundreds of gigs under their belt and most having over 50 years of musical experience. Drums, bass and guitar have been together over 13 years making them a very tight unit, whereas keyboard is relatively new to the band but has been playing since the 1970s as a solo artist and in various rock bands.
Members of North Shore Blvd have played in just about every venue within the St. Catherine's, Mississauga, Guelph triangle over the last twelve years.
So welcome to our site.
The Music
The music of North Shore Blvd can not be defined by genre or era. Our music has been described as pop rock, but it is so much more than that. We see it is as a sophisticated mix aimed at the 25+ crowd. Our music includes classic rock, new country and current hits. We select our songs based on the belief that a good song is a good song regardless of genre. And our audiences agree. If any tune doesn't have people dancing, singing or toe-tapping, it leaves the set list. Our goal is to play music that keeps our audience happy and have them staying to hear more.
With hundreds songs in our repertoire we can tune our set list to cover any situation whether it be weddings, Legions, corporate events or clubs.
Charitable Causes
North Shore Blvd had the honour to host the Annual Rock 'n Blues for Children's Causes over its 9 years existence. Close to $20,000 was raised for McMaster Children's Hospital (Mac Kids) and other children's charities. Organizing and participating in these types of charitable events is our way of supporting our community and recognizing that we are very lucky to be able to do what we love.
The picture above is us on stage during the 2016 event.
Ned Devines
This is one of our longest running gigs. Ned Devines is at 575 Ontario St. South at the N.E. corner of Derry Rd. in Miton (Go directly north on Bronte Rd to Derry Rd. from Burlington).
Saturday, Dec 14, 8:30 p.m
Saturday, Jan 25, 8:00 p.m.
Saturday, March 7, 8:00 p.m.
Carrigan Arms
This is a local pub known for its fine music. Carrigan Arms is located at 2025 Upper Middle Rd, Burlington, just off Brant St.
Friday, March 13, 8:30 p.m
Saturday, April 18, 8:00 p.m.
Friday, Sept. 18, 8:30 p.m.
Friday, March 27, 9:00 p.m.
Black Swan Pub
Located at 4040 Palladium Way, just off Walkers Line north of Dundas St. (Hwy 5). It has been the home of live entertainment since it opened.
Friday, Dec. 11: 8:30 p.m.